"The 10th International Annual Conference on Food Science China Food Capital 2018 Symposium on Functional Research and Application Innovation of Food-derived Peptides" was successfully held in Hefei, Anhui and achieved complete success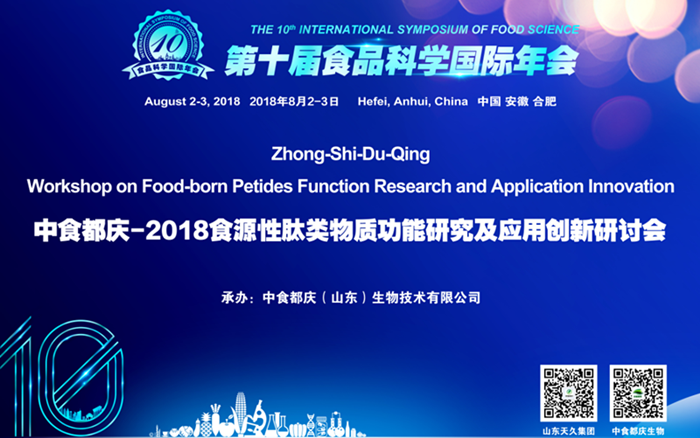 From August 2nd to 3rd, 2018, the "10th International Annual Conference on Food Science China Food Science 2018 Food Source Peptide Function Research and Application Innovation Seminar hosted by "Food Science" and hosted by China Food Science and Technology Co., Ltd. "Conference" was successfully held in Hefei, Anhui, and the conference was a complete success. Zhang Zhao, President of Shandong Tianjiu Industrial Group, Zhang Xuejun, General Manager of China Food Duqing Biology, Tian Mingzhan, Vice President of Shandong Tianjiu Industrial Group, Chen Ning, Professor of the School of Health Sciences of Wuhan Institute of Physical Education, Wang Shaoyun, Dean of the Institute of Marine Science and Technology of Fuzhou University, Huazhong Science and Technology Chen Zhengwang, professor of School of Life Science and Technology, Shandong University, Xu Guifa, former deputy dean of School of Public Health, Shandong University, Dai Jun, researcher of State Key Laboratory of Food Science and Technology, Jiangnan University, Jing Hao, professor of School of Food Science and Nutritional Engineering, China Agricultural University, Wuhan Institute of Physical Education Jia Shaohui, associate professor of the School of Health Sciences, He Hui, professor of the School of Food Science and Technology of Huazhong Agricultural University, Zhuang Yongliang, deputy dean of the Yunnan Provincial Institute of Food Safety, Kunming University of Science and Technology, Zhang Na, professor of the School of Food Engineering, Harbin University of Commerce, and Song Song, professor of the School of Food and Medicine, Zhejiang Ocean University Ru and other leading guests, professors and scholars attended the meeting, and delivered speeches and research reports respectively.
With the development of modern nutrition basic research, people have a series of new research results to solve the sub-health caused by modern life. People have been looking for fast, more direct and more effective substances to regulate the health of the body. Among them, the research results on food-derived peptide substances have given people a new understanding of the theory of protein nutrition, and the research on the nutritional and functional properties of peptide substances has become an important branch of bioengineering research. The research and development of bioactive peptides is the most active and fastest-growing industry in the global biomedicine and health care fields, and it is a sunrise industry with broad development prospects.
Food-derived peptides are biologically active small molecular substances made from natural protein that is eaten daily through enzymatic hydrolysis, separation, and refining processes. While retaining the nutritional value of the original protein, it also has good Excellent solubility, thermal stability, acid and alkali resistance and other processing characteristics, and easy to be absorbed by the human body. As a substance with high nutrition and multi-biological effects superior to protein and amino acids, food-derived peptides have become indispensable raw materials for the health industry due to their excellent nutritional properties and distinct biological activities. It is widely used in health food, functional food, sports food, special food, medical food and other fields.
Comply with the development of the times and follow the trend of the times. Shandong Tianjiu Industrial Group has completed the cluster construction of the protein peptide industry one step ahead of the industry. In 2012, it was recognized by the Shandong Provincial Bureau of Small and Medium-sized Enterprises as a biological protein peptide industry cluster in Shandong Province. In the same year, it was rated as the only provincial-level bioactive peptide in Shandong Province. The engineering technology research center was selected as a provincial engineering laboratory and a provincial key laboratory in 2014. After more than 30 years of development, Tianjiu Group has formed an emerging industry integrating protein peptide product research, production and downstream product development. The deepest leading enterprise.
Zhongshi Duqing Biology, a subsidiary of Shandong Tianjiu Industrial Group, is a provincial-level high-tech enterprise integrating R&D, production and marketing of biological protein peptides. Development. In 2003, based on the technical achievements of the Ministry of Science and Technology's "National Key Scientific and Technological Research Project 'Development and Application of Soybean Oligopeptide'", a professional production plant with an annual output of 5,000 tons of soybean peptide was established. In 2004, it participated in the drafting of the first domestic The protein peptide production standard (soybean peptide QB/T2653-2004) has thus far opened the prelude to the industrialization, large-scale and standardized production of protein peptides in China, and effectively realized a breakthrough in China's protein peptide industry.
Zhongshi Duqing Biology has always adhered to the corporate development concept of "food safety first, technological innovation first", driven by technological innovation and brand manufacturing, and continuously improving the application breadth of product fields, the depth of experimental research, and the temperature of customer service. Following the operation mode of "'production + scientific research'" of "new products, new concepts, daily updates, and everyone's innovation", we will actively build an honest brand of my country's bioactive peptide industry chain! The company has several soybean peptides, wheat peptides, corn peptides, collagen peptides, egg white peptides, walnut peptides, oyster peptides, mung bean peptides, pea peptides, sea cucumber intestinal peptides, rice peptides, spirulina peptides, dilong peptides, whey peptides, etc. Ten varieties have formed an annual production capacity of 2,000 tons of various protein peptides, and the domestic market share has reached more than 60%. It is the main supplier of raw materials for the top ten health care product manufacturers in China, such as Perfect and Infinitus.
China Food Duqing Biology actively explores effective technological innovation forms and approaches that combine technology and enterprise development, vigorously promotes industry-university-research cooperation, and establishes long-term strategic partnerships with authoritative scientific research institutes. The company takes the Institute of Biophysics of the Chinese Academy of Sciences, Shandong Provincial Institute of Food and Fermentation Industry, Jiangnan University, Shandong University, Huazhong University of Science and Technology, Jiangsu University, Wuhan Institute of Physical Education, Flinders University of Australia and many other cooperative institutions as strategic partners. Vigorously carry out research on biological protein peptide production technology and application technology, as well as functional verification and field application research of protein peptide products in sports nutrition, health conditioning, health care, nutritional strengthening, and treatment improvement.
As the product of the third deep development of protein, food-derived peptides have all the nutritional properties of the original protein, can be absorbed by the human body without digestion, quickly supplement human nutrition, and have strong multi-biological functional properties. It is an essential raw material for the development of the big health industry. Nowadays, with the loosening of the peptide industry by the country, especially the inclusion of peptide products into general food management, and the implementation of national standards for functional special foods such as medical food and sports food, the application fields of protein peptides have been broadened, which will greatly promote the protein peptide industry. The development of the industry will continue to show a rapid growth trend in the next five years, or even ten years.
Just in time, just in time for the meeting, the convening of the "2018 Symposium on the Functional Research and Application Innovation of Food-derived Peptides in the 10th International Annual Conference on Food Science China Food City Celebration" will provide a basis for the science and application of food-derived peptides. The healthy and rapid development of the industry adds a lot of color.